Welcome to the Bank of Mott
IMPORTANT MESSAGE
FROM THE COMMERCIAL BANK OF MOTT
TO OUR VALUED CUSTOMERS REGARDING CORONAVIRUS

Our lobby will be closed to walk-in traffic,
beginning Thursday, March 19th,
until further notice.

~~~~~

Please call for appointments!

We are taking this action with the health of our customers, staff members and community in mind, and in an effort to assist in slowing the transmission of the Coronavirus.

We encourage you to use the following alternative solutions for your transactions:
Call us at 701-824-2593. We can handle many of your transactions and provide other services over the phone.
Drive-up window will continue to be available from 9:00 to 3:00 Monday through Friday.
Night drop is available for your deposits 24 hours a day.
ATM for cash withdrawals.
Internet Banking / Mobile App for balance inquiries & transfers between accounts.
Bill Pay Service for paying bills.
Remote Deposit via the Mobile App.
Please call us at (701) 824-2593 for the following:
Loan requests and servicing - Calls will be forwarded to your loan officer, who will respond directly to you.
Deposit accounts (New accounts, CD's, IRA) - Many deposit account transactions and servicing requests can be handled over the phone and through our drive-up window.
Coin requests/coin sorting
Call us in advance to make arrangements to pick up coin.
We request at this time that customers NOT bring in large amounts of coin for sorting, unless necessary.
VISA debit cards and credit cards - Call us with any issues you have with your cards.
Safe Deposit Box - Contact us in advance if entry to your safe deposit box is necessary.
If you have scheduled a time to come into the bank, please be aware that:
Prior to coming in to the bank, you will be asked questions regarding recent travel and health status.
Our staff members will be observing "social distancing" procedures, and maintaining a distance of six feet or more from you, whenever possible.
We appreciate your cooperation as we navigate these difficult times.
Again, the health and safety of our customers, staff members, and community is our top concern.
WWW.CBMOTT.COM
1-701-824-2593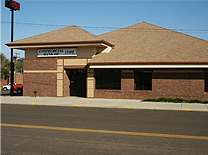 Since 1940 the Commercial Bank of Mott has been a part of this community and has grown with the needs of our customers with full array of traditional banking services including leading edge technology and friendly service. There's something special about banking with the Commercial Bank of Mott. Maybe it's the fact that our employees are your neighbors -- people who live in your community and know your name. Maybe it's the fact that we offer most of the services of a big bank, but don't act like one.

Now, to continue to grow with the needs of our customers, and leading edge technology we bring you another service in access and convenience with our online banking. We want your banking experience with us to be easy whether online or in person.

Today with online banking, more than ever, your account information is available around the clock. We think you will enjoy and like our online banking. It's safe and convenient.

If there is anything we can do to ensure your satisfactory banking experience with us, please
call us at 701-824-2593 or stop in and visit with any of our employees.

If you have a lost or stolen Commercial Bank of Mott Debit Card please call us at 1-701-824-2593
or call our Debit Card Service Provider at 1-800-554-8969.


Funds Availability Policy, Effective July 2020 (PDF)